Regular price
$12.00 CAD
Sale price
$14.00 CAD
Unit price
per
Sale
Sold out
Sooth Dry, Naturally Sensitive Skin. 

⭐⭐⭐⭐⭐ "I kid you not. This was the first lotion I tried in my son's 2.5 years of life that he did not react to with screaming and actually calmed his skin first and helped moisturize it further to stop the itch" L.K. 
What makes us different?
Formulated

 

WITHOUT common dry skin triggers for extra sensitive skin
Free of ❌Chamomile , ❌Calendula , ❌Coconut or ❌Oatmeal  

Improves moisture in dry skin without triggering natural sensitivities

Goodbye to the fear of trying a new lotion; stinging, burning, hurting

Calm and soften dry areas with a silky soft, light, non-greasy feeling

Made by experts in natural skincare with priority on moisturizing.
We're all about science!
Rooibos is a South African bush that has been used for centuries.

Babies skin is 5x thinner and more sensitive than adults.


Natural sensitives can disrupt the moisture balance in baby skin.

PARABEN, TOXINS, SULFATES, SCENT, COLOUR and CRUELTY FREE.
Rooibos is high is Vitamin C, Antioxidants and contains Polyphenols.
Health Canada Compliant
No age limits - 0 year old to 100 year old skin.

INGREDIENTS: Purified Water(Aqua), Theobroma Cacao (Cocoa) Seed Butter, Oryza Sativa (Rice) Bran Oil, Aspalathus Linearis (Rooibos) Extract, Cetyl  Alcohol, Glyceryl Stearate, Vegetable Glycerin, Natural Preservative (Benzyl Alcohol & Salicylic Acid & Glycerin & Sorbic Acid)
Share
View full details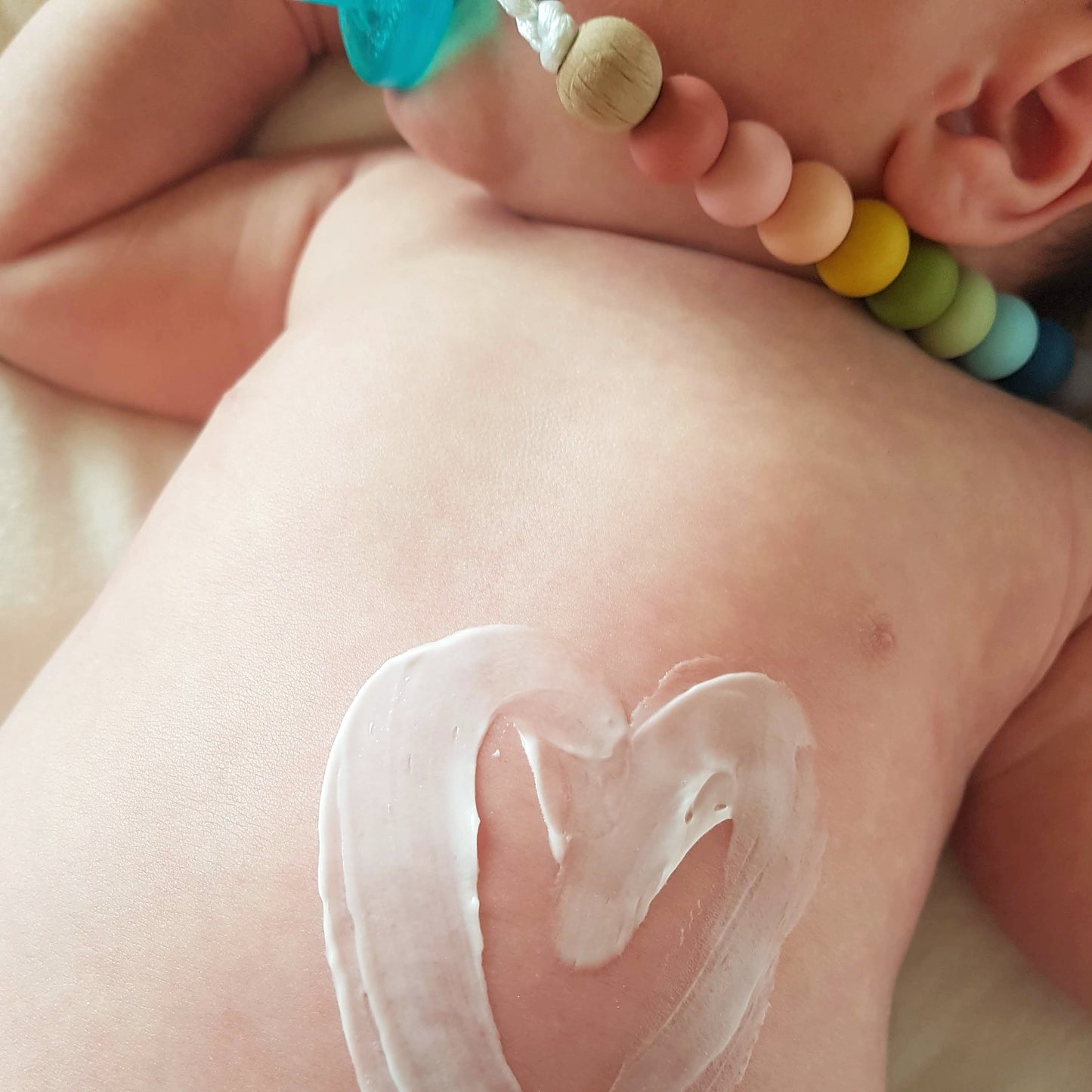 5 Benefits of Great Baths
Nurture

Our babies are the most magical part of us. As nurturers, it is crucial that we use every opportunity we have with our children to nurture, love and help them grow resilient and healthy brains.

Since baths are necessary, it's a perfect opportunity to create nurture, connectedness and bond with them. Give them distress-free attention and touch that is comforting and safe.
Body Science

When your child is having a warm bath the blood comes to the surface of their skin, this process is called vasodilation. The warming of the body means these blood vessels are open, so when they leave the bath their body temperature will drop a reasonable amount. This body temperature drop will allow them to fall asleep easier.

Research shows that by reducing the body temperature by 1C before bedtime, can help with decreasing the time it takes to get to sleep, lower the chances of waking up and also encourage sleeping longer
Fresh & Clean

Babies are never really dirty but they do get touched and kissed by everyone in their family. While it doesn't feel or seem like much, having a nice warm bath will help refresh and clean their sensitive skin from even the most invisible germs. No need for soap every time.

Fussy baby? Baths are a great way to move gas because baby is relaxed and "floating" in water.
Minimal Tears

We design products with the utmost care to create a seamless and enjoyable experience for babies and their parents as they transition in and out of the water. Babies communicate through crying, and as nurturing parents, it is our duty to provide comfort, compassion, and minimize unnecessary distress.

Our goal is to foster healthy and resilient brains while making bath time a soothing and memorable moment for both baby and parent
Bedtime Routine

Having a routine before bed is extremely important for little ones. Repeating the same routine each night will mean that they know sleep is coming and allows them to wind down. It is a great way to move gas and reset awake and sleep hours.
My toddler loves it!
My toddler has eczema and hates getting moisturizer put on his face. We've tried 20+ brands of products and although some of them work to keep the redness under control, he always swats my hand away when I try to put it on his face. I bought this product on a whim for free shipping, and we love it! He no longer swats my hand away and even shares with me by putting it on my face!
Hello Elizabeth, this is so wonderful. Sensitive skin can be so hard to navigate with littles, especially when they cannot vocalize what or why it isn't working or feeling right. I am so glad he's no longer swatting or hesitant for lotion time. That is the best review of all.
BARE lotion
Great product and even greater customer service. Thanks for both!
What we believe?

"I believe parents deserve MORE : More Function, More Sharing, More Connections. More from the items they trust with their babies. Modern parents are commited to learning new and better ways to parent and experience. We are committed to offering those new and better ways and be a new gold standard for bath linens" SR

Skip the square & status quo

Who Makes our Products?

A bunch of very cool women and men make Oneberrie come to life. We want to support people with non-traditional work opportunities. Made, Sewn, Formulated and Packaged in The Rocky mountains of Canada.

How we make our products
Oneberrie acknowledges that we live, work, and play on the traditional territory of the Ktunaxa and Secwepemc in BC and the lands that the metis people call home.