Regular price
Sale price
$29.50 CAD
Unit price
per
Sale
Sold out
IMPERFECTLY PERFECT. 

There is nothing wrong with the towels in this section other than they may have a flaw or dirt in the fabric print, processing or not sewn the perfectly.
Want one?
Simply share your top 3 prints of choice in the notes and we will make sure you get one of them. 
Prints Available
Love you more (XO),
Three Bears (Bears),
Honeycomb (Bees),
Graffiti (Faces),
Cinnamon (Tan),
Plaids (Red, Blue, White),
Here Comes the Sun (Rainbows),
Marshmallow (White)
ALL SALE ITEMS ARE FINAL SALE.

Share
View full details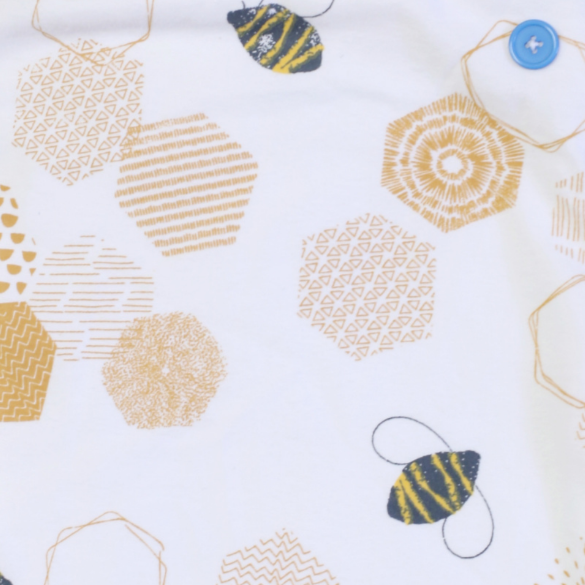 5 Benefits of Great Baths
Nurture

Our babies are the most magical part of us. As nurturers, it is crucial that we use every opportunity we have with our children to nurture, love and help them grow resilient and healthy brains.

Since baths are necessary, it's a perfect opportunity to create nurture, connectedness and bond with them. Give them distress-free attention and touch that is comforting and safe.
Body Science

When your child is having a warm bath the blood comes to the surface of their skin, this process is called vasodilation. The warming of the body means these blood vessels are open, so when they leave the bath their body temperature will drop a reasonable amount. This body temperature drop will allow them to fall asleep easier.

Research shows that by reducing the body temperature by 1C before bedtime, can help with decreasing the time it takes to get to sleep, lower the chances of waking up and also encourage sleeping longer
Fresh & Clean

Babies are never really dirty but they do get touched and kissed by everyone in their family. While it doesn't feel or seem like much, having a nice warm bath will help refresh and clean their sensitive skin from even the most invisible germs. No need for soap every time.

Fussy baby? Baths are a great way to move gas because baby is relaxed and "floating" in water.
Minimal Tears

We design products with the utmost care to create a seamless and enjoyable experience for babies and their parents as they transition in and out of the water. Babies communicate through crying, and as nurturing parents, it is our duty to provide comfort, compassion, and minimize unnecessary distress.

Our goal is to foster healthy and resilient brains while making bath time a soothing and memorable moment for both baby and parent
Bedtime Routine

Having a routine before bed is extremely important for little ones. Repeating the same routine each night will mean that they know sleep is coming and allows them to wind down. It is a great way to move gas and reset awake and sleep hours.
The key to a happy bathtime!
Our 3 month old had always screamed getting out of the bath no matter how quickly we got her into a towel and dried off. From the very first bathtime with these towels the crying stopped…hard to believe that just changing towels could do the trick but here we are! My theory is that both the size and the cozy material make for a much warmer experience for our little one, but whatever the reason, these towels have made previously stressful bathtime stress-free for the first time!
This is the greatest nurture you can share. I am so happy that you can take the stress out of baths for your little baby. Their only communication is tears so this is a mom-win for the ordinary moments. Great Job.
So wonderful you need two!
Loved our first towel so much I had to get another so we always have one clean when the other is in the wash. So soft and cozy, we always have a snuggle and a feed after our baths and this towel gets our babe warm and dry right away. We have also brought this towel to the pool to have the familiarity of home baths, I feel it has helped to smooth the transition from tub to pool.
Love this!
I got a towel for the neck and it is awesome as I'm not doing the awkward chin hold with a toddler who hates bath time. I can just clasp it, and then grab my sqirming little one without worrying. Then we can do our "Baby In a Towel" made up song and our few moments of frustration are averted! Love the towel, it's very soft and am excited to usw it with my baby in Feb. As well as will be buying a bunch to add it my "new baby gift" stash of my favourites for new moms.
Very excited!
Shipped quickly, great deal, and I can't wait to use it!
What we believe?

"I believe parents deserve MORE : More Function, More Sharing, More Connections. More from the items they trust with their babies. Modern parents are commited to learning new and better ways to parent and experience. We are committed to offering those new and better ways and be a new gold standard for bath linens" SR

Skip the square & status quo

Who Makes our Products?

A bunch of very cool women and men make Oneberrie come to life. We want to support people with non-traditional work opportunities. Made, Sewn, Formulated and Packaged in The Rocky mountains of Canada.

How we make our products
Oneberrie acknowledges that we live, work, and play on the traditional territory of the Ktunaxa and Secwepemc in BC and the lands that the metis people call home.